It was so exciting to have the girls return from their month long trip to Asia. I was so thankful to have them home safe and sound. I loved hearing each story and seeing each picture that was available. In June, the girls spent the first two weeks in Vietnam, and they spent the second two weeks in Thailand. I am going to share with you some of the special memories and experiences that I have been able to hear. Perhaps one day, I will get the girls to be guest bloggers and to share their stories on here. I am ever thankful for these two incredible, beautiful girls that have hearts to serve God and others. As their mother, I am extremely grateful.
In Vietnam, they were with a smaller team of approximately 12 people and were right in Ho Chi Minh, formerly known as Saigon. The first time I heard from the girls on a video call, then it was so much fun to hear the excitement in their voices. They were meeting many young people there who were great to share with, develop relationships with, and to spend time with. The girls loved the opportunities of meeting new people, and they loved being able to share about each others' lives. They worked while they were there and loved the friendliness and the loving ways of the people.
The girls had a great time sharing about the different people that they had connected with. They loved going through the city with them and learning from them. They loved the food, the culture, and the time that they had with their team. It was so wonderful to hear how well their time was in Vietnam and all that they had learned.
One day, they spent the day in an orphanage. The girls had never been to an orphanage before. For the girls to hold the little babies and then see how they would cling on to them and cry when they would put them down touched and hurt their hearts in so many ways. The girls also noticed this in all of the little children. They saw how hungry for love that these children were. For the girls, to see these children and babies in the orphanage with no family and so hungry for love was impactful.
As most of you know, the girls have been through a lot of pain when they lost their dad (my husband) in August 2011 from a work related accident and their brother(my only son) at the age of 18 in a car accident in June of 2013. The deaths of both of our guys has brought a lot of pain and hurt that the girls have had to and are continuing to work through. I do believe that spending time with these babies and young children who had absolutely no family with them created a new thankfulness in the girls' hearts that we still continue to have each other and that we have such a large, loving family that surrounds us. It is unimaginable to think of all of the little ones in the orphanages who feel so forgotten and so alone. It hurts my heart just to think of it, but I am so glad that the girls did have these opportunities. We want to live in compassion and to have these times of being immersed in the needs and pain of others which is vital to building that compassion and empathy in each of us.
Once the girls arrived in Thailand, then three other teams arrived from different parts of Asia to work together with their team. Therefore, their large team in Thailand was composed of approximately 50 people. The girls and their teams were working in Mae Sot. Mae Sot has a large refugee camp that has thousands and thousands of refugees. The Burmese people have been fleeing from Burma. The Buddhists have been ethnically cleansing the area of Muslims and Hindus. A large amount of people have fled to Mae Sot to seek safety and refuge. In Thailand, the girls worked with mostly children who had fled from Burma. They worked in schools with these children and also helped in some construction of a boys dorm for one of the schools.
I have many stories that the girls have shared with me about their times in both countries. One of my favorites from Kylee is about a time where she was out doing physical labor to help construct the boys dorm for the school. The females were to line up and help carry bricks. The males were to line up and help carry the cement bags that were heavier than the bricks. Kylee was in line to get some bricks; however, the men thought that Kylee was trying to get a cement bag. They were motioning and telling Kylee to move to the other line and that the cement bag would be way too heavy. My daughter then perceived this as a challenge that she had to meet. Kylee has a great amount of physical strength and always has. Kylee approached the men with the cement bags and was motioning for them to place it on her shoulder. Kylee said that the men kept saying, "no, too heavy". Kylee continued in her persistence. Once the men realized that they could not sway her then they sent a man to get behind her to help her if the cement bag caused her to fall over. Kylee laughed as she recalled the scene. She described the man who was behind her as being of very small build. Her words to me were, "Mom, if I would have sat on him then I would have crushed him."
The story continued, and I was laughing so hard as Kylee kept speaking. She said that finally they put the cement bag on her shoulder, and that the men were astonished as they watched her carry it. Kylee said that she received a spontaneous round of applause and cheers from the men because she was able to carry this bag. One of the reasons that I loved this story so much besides how humourous it is to imagine the scene was because it symbolized so much of Kylee's personality. Kylee is a strong, hard worker. She has a fierce dedication and determination when she puts her mind to something. It is very fun for me to picture her in this story in Asia. She was being true to her character and rising to the challenge placed before her. She accomplished her goal just as I have witnessed her do in so many areas in her life. Plus, it makes me giggle thinking of the men being amazed at her strength which was so unexpected of a female. They were truly concerned for her safety. What a blessing it is to have such a strong, determined young woman for a daughter who goes after her goals and accomplishes them. 🙂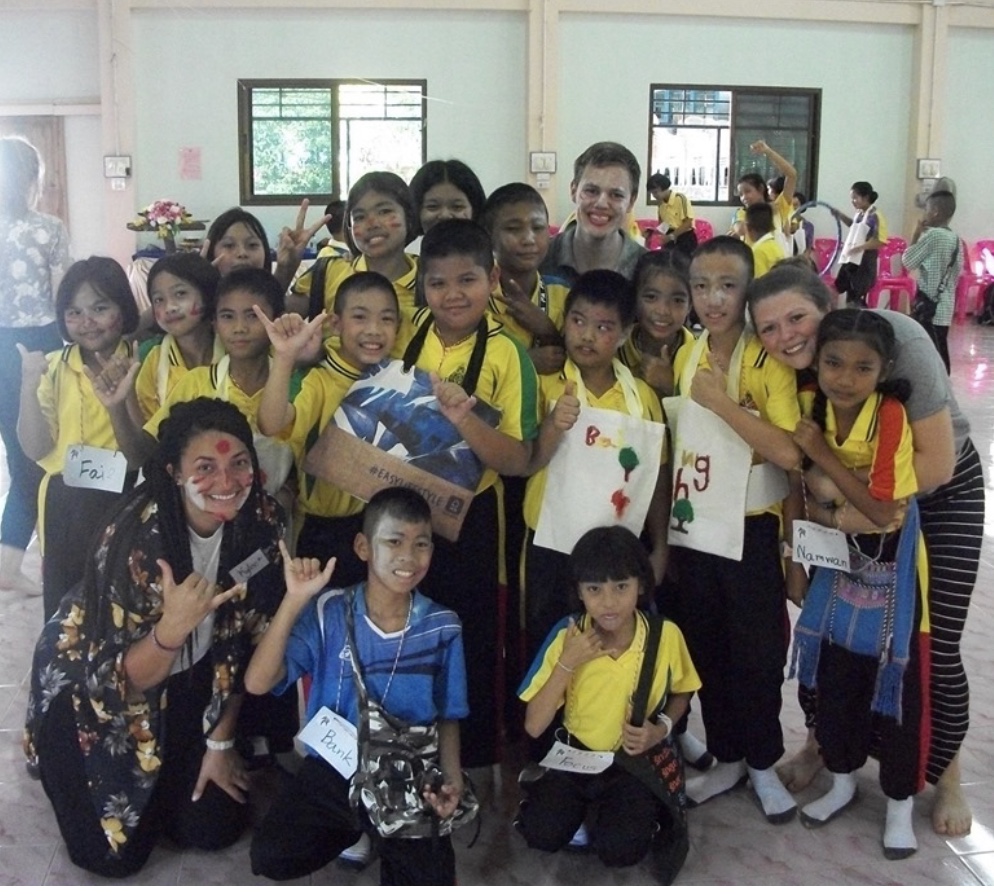 MiKayla spent much more time with the children in Thailand then doing the physical labor that Kylee did.  MiKayla also spent time working with prisoners there for one day. MiKayla went to a variety of schools and helped with many of the children who had to flee Burma. Kylee had some time at the schools as well, but it was not as much compared to MiKayla's time as Kylee spent much time helping with the physical labor. Both girls fell in love with all of the children that they interacted with. It is special for me to watch MiKayla's face and eyes light up when she looks at pictures of the children that she worked with. She truly fell in love with them, and it is very evident when she looks at them in the pictures and talks about them. This is so special for this mom's heart to see. I want my girls to be people of compassion and to live in love. I want them to freely share the love of God that we all have been blessed with. It blesses my heart to see how they are living this way.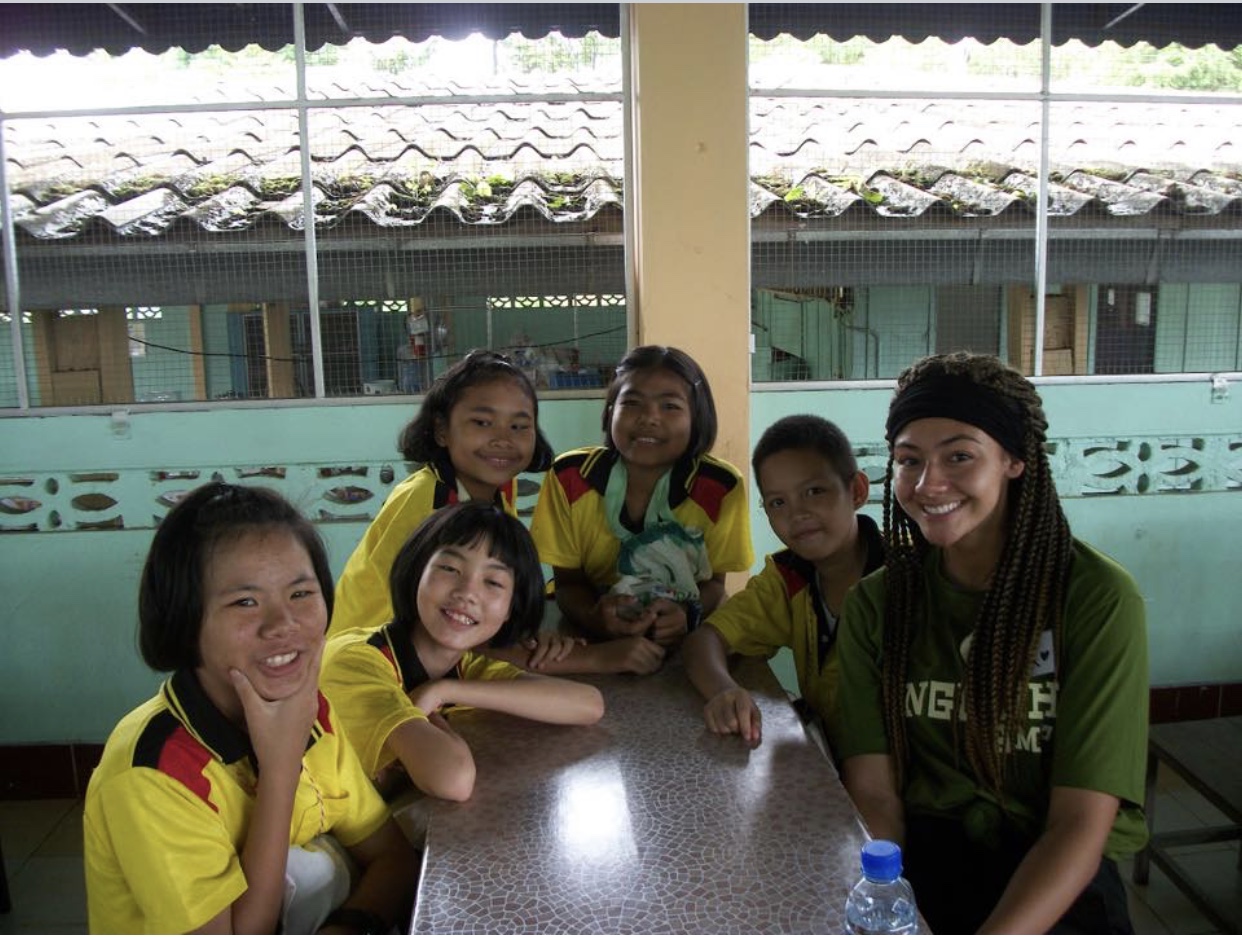 One of my favorite stories from MiKayla, and just as with Kylee there are many, has to do with her time with the children. MiKayla said that outside of the schools where she would work with the school age children that the younger children would wait outside. She said that while these children that were younger than school age would wait that they would have small pieces of paper in their hands. She said that when you would come out of the school that the young children would want you to just write anything on their papers. One day, when MiKayla came out of the school and had to go to a different building then the young children who were waiting followed her and patiently waited while she was in the other building. She said that she could not believe how long they waited. MiKayla could hear them outside talking and waiting. There was a group of maybe 30 young children waiting. They just wanted to walk with her and to have her write anything on their papers. When she was finally done in the other building and came back outside then the children broke into big smiles and held their pieces of paper up to her. MiKayla obliged and wrote something on their papers. It was such a blessing to me to hear about all of the children that she was able to love on and interact with. She truly found joy in them and loved them.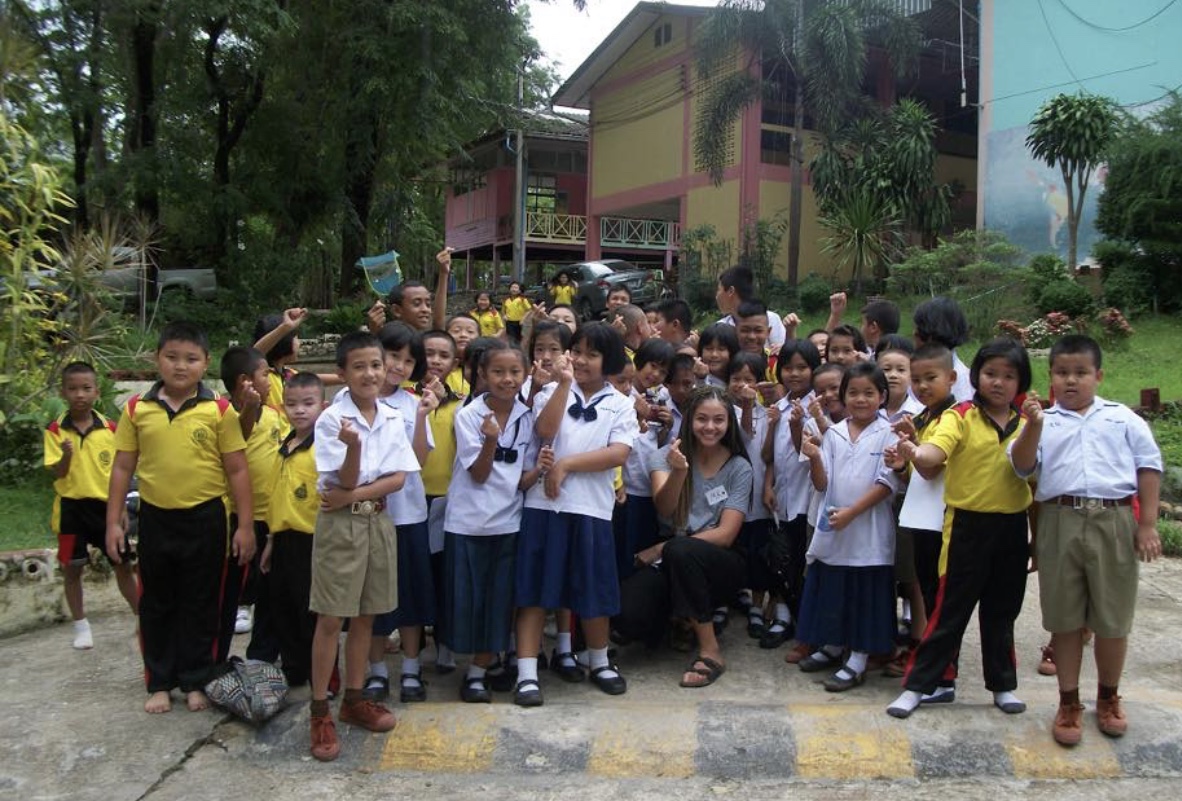 I am so thankful for this incredible opportunity for the girls. Last year, when Kylee went to Africa, it was a true joy to spend time with her when she got back and to see all of the ways that she had grown in her times in Mozambique and South Africa. I am thankful that this summer I had that opportunity to see the growth in both of my daughters after their times in Vietnam and Thailand. It blesses my heart to see the ways that they have continued to heal in their hurts and how they each desire to live in faith and in love. I am ever thankful that the girls want to continue to grow in their faith and that they want to impact the world with the mighty love of God. I am thankful for the opportunities that they have to travel to different cultures and to realize the blessings that they each do have in their own lives.
I am thankful for faithful leaders like Jaron who love God and my daughters. Jaron was so sensitive and good to the girls each day and especially on those painful days that we were apart when their brother died, their brother's birthday, and Father's Day. As Kylee shared about those days with me, she talked about the sensitivity that Jaron had with both of them. Her words to me were, "Mom, I remember thinking, why can't others respond the way Jaron does in our pain." Jaron was demonstrating what we have shared about before that is so important in grief: Acknowledging the pain (not ignoring) and Being there. Thank You God for providing loving leaders like Jaron on their trip that not only were watchful for their safety and individual needs but that also provided loving support in difficult, painful times.
Thank You God for these wonderful opportunities for Kylee and for MiKayla and for all of the ways that they continue to grow and heal. I am ever grateful.
"… Serve one another humbly in love." Galatians 5:13

"At the end of our lives, let us look back and measure our success by how well we loved." Author UnKnown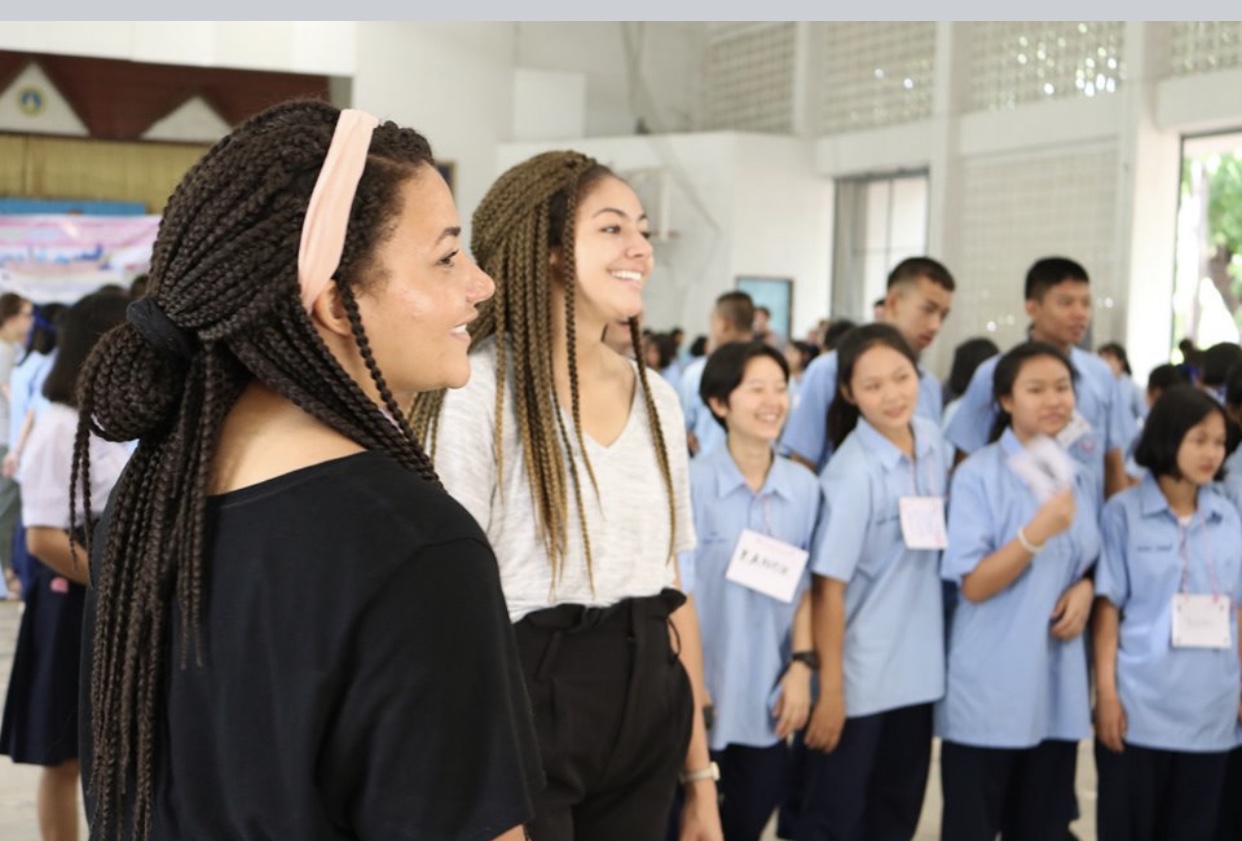 Latest posts by Kristi Kirk
(see all)