It is unreal to me that it has been 7 years since my son PK died. Sometimes it feels like I just lost him, and then sometimes it feels like it has been so very long ago. I love and miss him with my whole heart. For Always.
For those of you who have been journeying with us then you understand how we remember this day. I do want to take just a moment and explain to our new readers what the girls and I do and why concerning the anniversary of my son's death. My son PK died on June 26, 2013 in a car accident at the young age of 18. He was instantly killed. The state police described it as the perfect storm. He encountered water on the highway from a sudden burst of rain while he was going around a curve. He hydroplaned and overcorrected. He was driving sideways down the highway when a UPS truck came around a curve from the opposite direction. The UPS truck tried to get over to avoid him, but he was unable to. My son, in the prime of his life, was killed on impact. It broke my heart to pieces. Just 22 months before that my husband of 18 years was killed in a work related accident. My two incredible daughters and I were left in much pain and grief. On the first anniversary of my son's death, we were just at home. It was so painful. The day did not go well. I talked with the girls and after that we decided to spend that painful day in a different way.
The girls and I all love the beauty of God's creation so much. I am so thankful for the way that they love nature as I do. We have spent the anniversary of my son's death each year since the first anniversary in some beautiful place. We try to go to different places if possible. We hike and are active and try to get lost in the beauty of what God has made on that day as we remember PK. It has helped with our focus on that day. As we love and miss PK, we are enjoying the beauty of God's creation and are focusing on all that we are so grateful for. We have now spent that day in a variety of beautiful places: on top of Pike's Peak, hiking the beautiful northern woods of Minnesota and the shoreline of Lake Superior, canoeing the beautiful Buffalo National River, hiking to Whitaker Point/Hawk's Bill Crag, and now the smoky mountains. Last year was different and difficult for me as it was the first year that I had to take on this day alone as the girls were on a mission trip to Asia. I did keep our tradition though and hiked 7 miles through a beautiful area filled with waterfalls. 🙂 I was thankful for God's presence with me each step of the way.
We traveled to the Smoky Mountains on Thursday, and we were good social distancers and stayed in a cabin in the woods. Friday morning, June 26th, we set out for our first leg of our adventure to Clingmans Dome. Clingmans Dome is the highest mountain in the Great Smoky Mountains National Park and is the highest point in the state of Tennessee. It is at an elevation of 6,643 feet. We drove the 7 mile Clingmans Dome Road that took us to a parking lot just a half mile below the summit. We had such gorgeous views.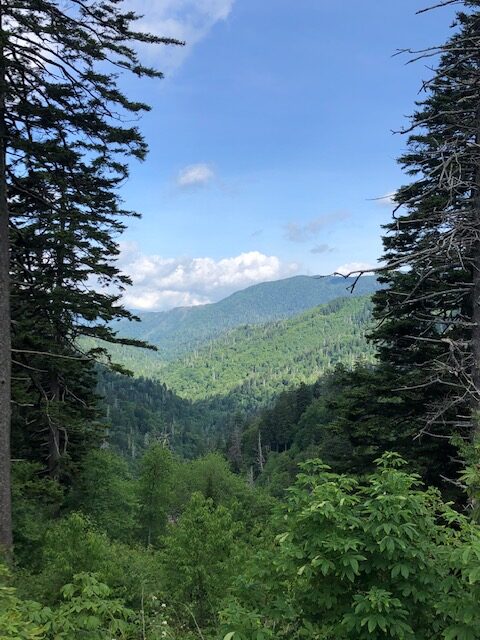 Once we arrived at the parking lot, then we had a short hike to the top. The trail was paved, and our legs got a good work out on the incline going up to the observation tower. We enjoyed the short hike, and the beauty of our surroundings. The Appalachian Trail crosses Clingmans Dome, and that was a lot of fun to see the trail that I had heard about for so many years. It is unreal to me that hiking trail extends from Georgia to Maine. The trail is said to be approximately 2,200 miles long, and it is described as the longest hiking-only trail in the world. It was so much fun to get the girls picture there as it is said that there are more than 2 million people that take a hike on part of the trail at least once each year.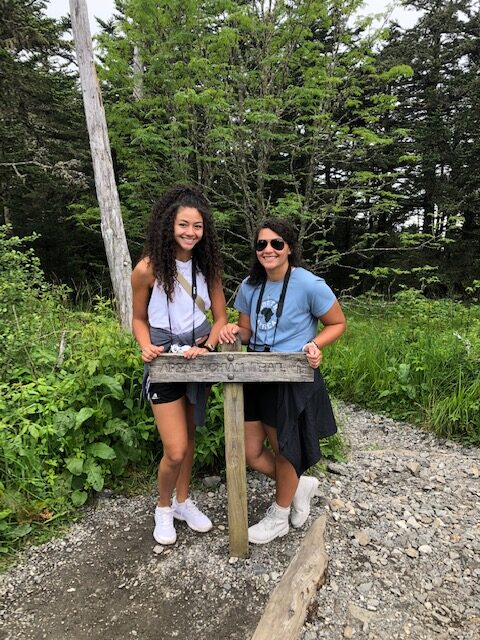 After we enjoyed our views and the beauty of our surroundings then we headed back down the trail. Every time we are hiking then the girls find some side trail or something else to explore. I always enjoy seeing what peaks their interest. This is a picture of them on top of some large rocks.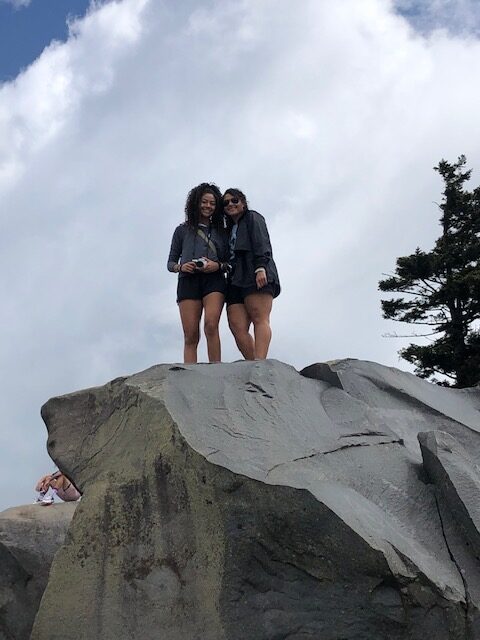 Next, we headed for Alum Cave Trail. This trail had some good incline along the way! I was definitely feeling it in my legs. LOL The girls and I just absolutely loved the beauty as we kept pressing on. As usual on this day, my mind and heart had so many images that I was recalling. It truly helps my heart to be somewhere beautiful on this day that my son died and with my beautiful girls. Tears would fill my eyes at some of the memories that were traveling with me. I love and miss my boy so very much. Grief has so much that it brings to my life…. I am ever grateful that grief and gratitude can coexist. I am ever thankful for all of the ways that God has helped the girls and I and continues to each day.
On the Alum Cave Trail, we stopped at Arch Rock. It was a beautiful, large black slate rock that through the years as it's name says has created a large natural arch.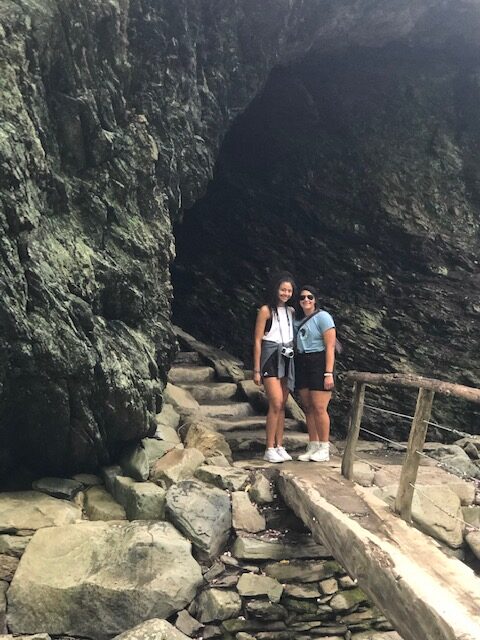 The girls and I hiked back down the beautiful trail after this point. This mom enjoyed the trip down the mountain more than the trip up. LOL. I noticed that I was observing even more of the beauty when I wasn't battling the incline. There is more to adventure to on that beautiful trail, but we stopped at Arch Rock in order to still have time to explore Cades Cove before sunset.
Cades Cove is a valley in the Great Smoky Mountains National Park. It is said to have been home to numerous settlers before the national park was formed. I was interested to see the beauty of it, but most especially to see the wildlife. The girls often laugh at me when we are going hiking and exploring as I frequently talk about what wildlife that I would love to see. Bears and moose are often at the top of the list. I have had the blessing of seeing Moose in the wild in my home state of North Dakota and when I was in Alaska. However, I have never been able to see bears in the wild. There are estimated to be approximately 1500 bears that live in the Great Smoky Mountains National Park. They say that equals a population density of approximately two bears per square mile. I was sure hoping that I was going to be able to see some bear in the wild while we were there.
Cades Cove did not disappoint! We actually were able to see four bears in the wild while we were there. The first bear I did not get a picture of as it was standing in the field, and we saw it when we were already well past it. The second bear was eating in the field and kept popping it's head up and down while it ate. We were able to watch this bear for awhile, and it is pictured below: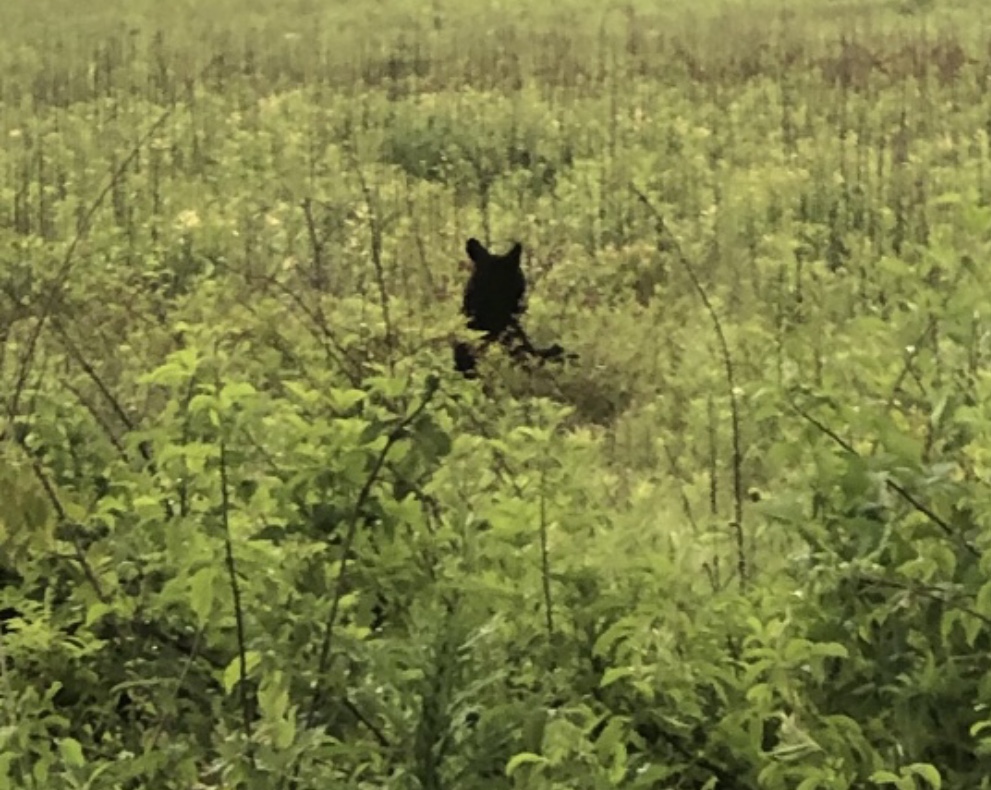 The third bear was sleeping in a tree and like the second bear, we were able to pause and enjoy the view for a short time.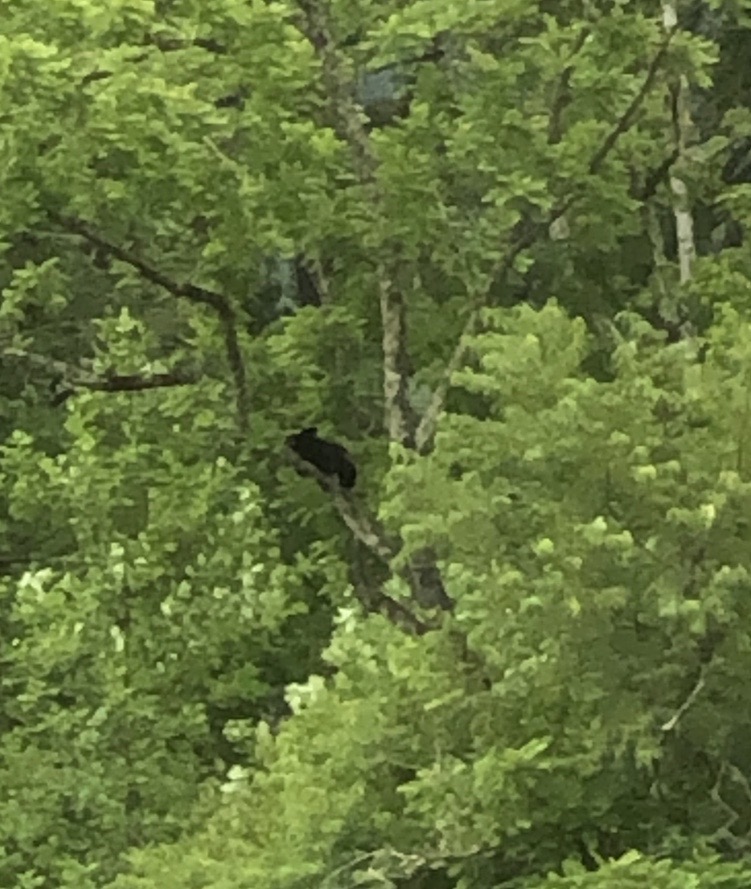 The fourth bear startled us all. We were slowly driving along the road with our windows open and were scanning for more bears. All of a sudden we saw the bear right by the road laying on a log. We all screamed in delight, but we startled the bear. Sadly, it got up and walked away. Oh how we wish that we were quiet until we at least got a good picture as it would have been awesome. Kylee did get out and got a picture of it walking away. I was just thrilled that we had the blessings of seeing four bears in the wild!! It was such a blessing in the midst of pain.
Cade's Cove ended our Friday adventure. We were all so thankful for the blessings of that day. Because the 26th fell on a Friday then we stayed another night in order to have a another adventure on Saturday. For any of you who have journeyed with us then you may remember that we all love the water. Whether it is the ocean, the lake, a river, etc. we have all decided that we often find peace when we are by water. MiKayla had heard about Laurel Falls being beautiful, and on Saturday morning we headed that way.
Often, we had a good length of ground to walk to get to the trailhead of whichever trail that we were going to hike. As we walked to get to the trailhead for Laurel Falls, then the girls journeyed off down to a beautiful stream that was along the way. I followed after them and enjoyed the beauty and the pure joy that my daughters were having in exploring. It was a beautiful area that we all loved.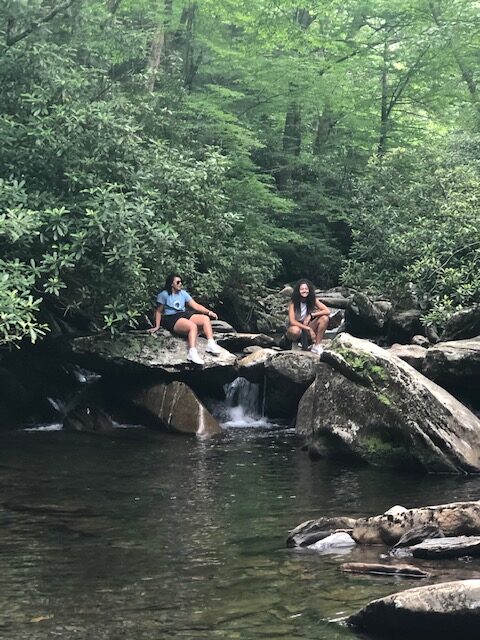 We started on Laurel Falls Trail, and we loved the beauty of the trail. It seemed to be a more gradual incline compared to the hikes that we had on the previous day, and my mind and my legs were saying thank you. We all love the beauty of the woods. I love watching the girls enjoy the beauty of God's creation. It is such a blessing that the three of us share this deep love.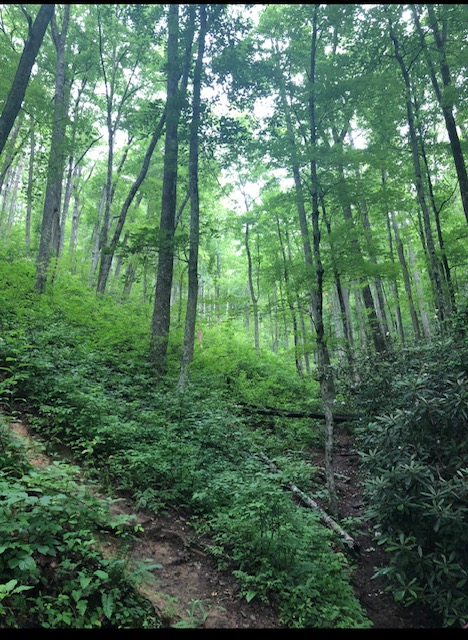 The wild flowers were absolutely gorgeous and were scattered along the hiking trails.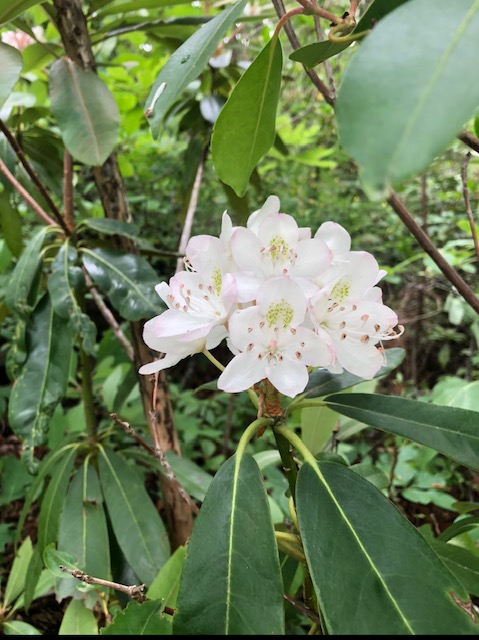 The smoky mountains were so beautiful as we continued to hike up the trail.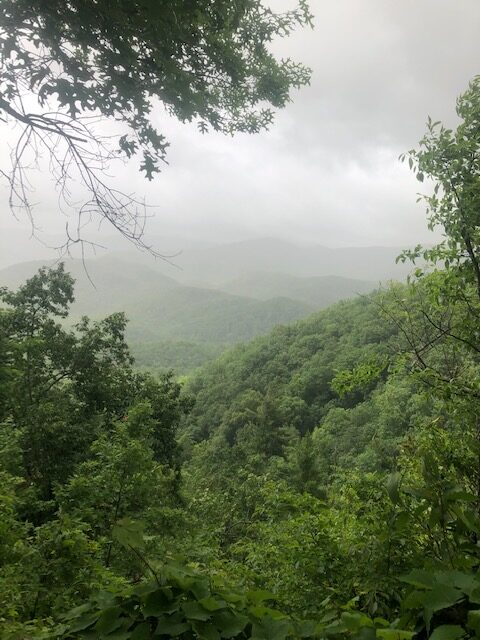 Once we arrived at Laurel Falls then we were so excited! We all agreed that the pictures had not done it's beauty justice. We climbed down a rocky path to get to the bottom of the falls, and I most definitely needed to pay close attention on the hike down.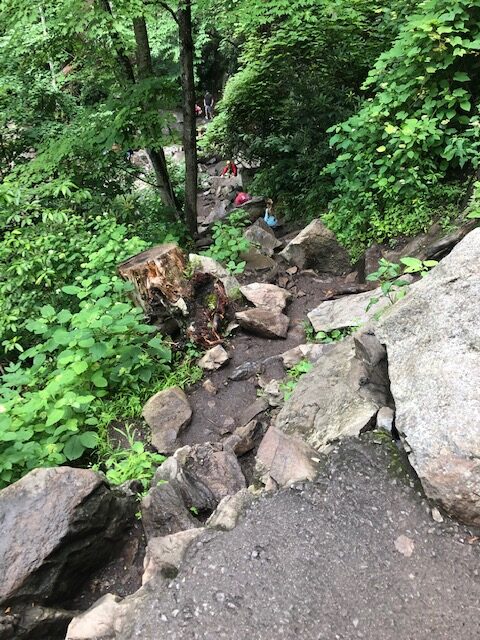 Once we got to the bottom then we were just thrilled. It was so beautiful. It was split into two sections. This is the bottom section: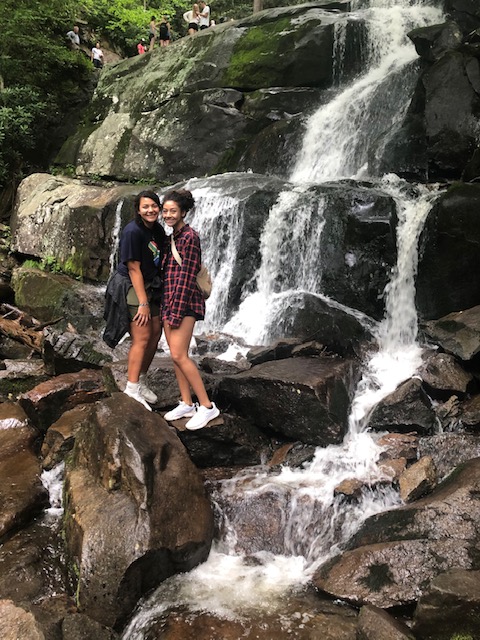 After we finished enjoying the beauty of the lower falls then it was time to hike up the rocks to get to the upper section of the falls.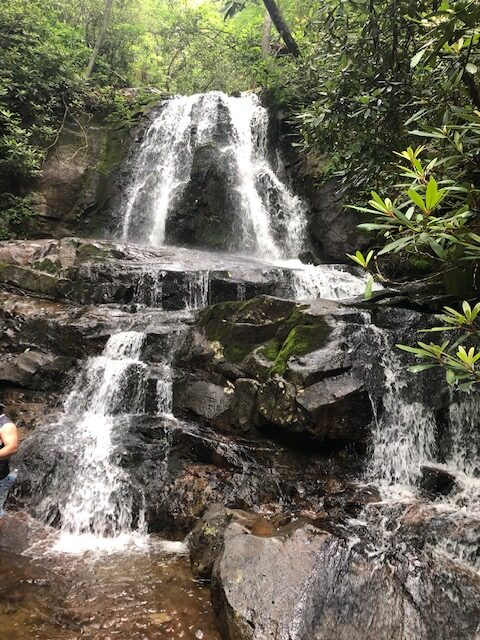 What a beautiful morning this turned out to be as well. We were so thankful for the extra day to be able to enjoy the beauty of this national park.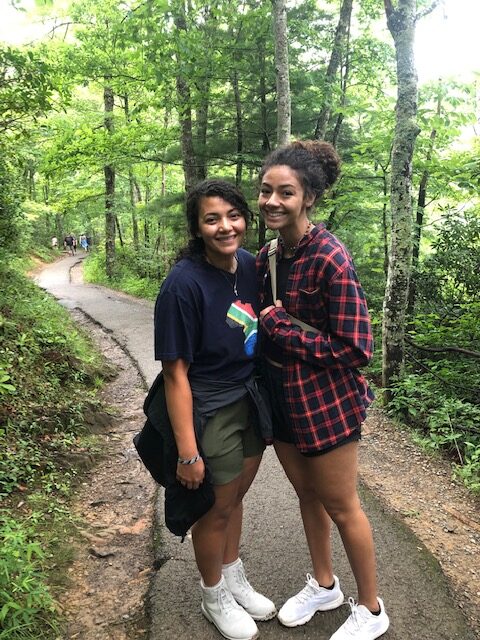 As I reflect on the day that the girls and I shared together 7 years after my son's death then my heart and mind are full of many thoughts and feelings. It is always a blessing to see how His Presence travels with us wherever we are. It is also special to reflect on the many ways that He speaks to and encourages our hearts and minds. My girls love to listen to podcasts, and one was sharing about how The Lord pursues us with His Love. Do you know that? Do you know that The Lord pursues us with His Love? Wow! How much fuller would our hearts be if we stood on this truth. Those words bring my heart great comfort. Thank You Lord for pursuing us with Your Love.
There was a time earlier in the week when MiKayla was talking about how much she loved the sky. It was really special timing for me because when I had been out walking the dogs in the early morning hours then I had some moments of just stopping and staring at the beautiful sky and sunrise. Several verses came to my mind as I was standing there about how The Lord fights for us.
Joshua 23:10 "One of your men puts to flight a thousand, for The Lord your God is He who fights for you, just as He promised you."

Deuteronomy 3:22 "Do not be afraid of them; The Lord your God Himself will fight for you."

Deuteronomy 20:4 "For The Lord your God is the one who goes with you to fight for you against your enemies to give you victory."
When the girls and I listened to John Piper's podcast then he referenced Psalm 19:1-4,
"The heavens declare the glory of God; the skies proclaim the work of His Hands. Day after day they pour forth speech; night after night they reveal knowledge. They have no speech, they use no words; no sound is heard from them. Yet their voice goes out into all the earth, their words to the ends of the world."
As I look back through these painful years, am I still able to see that The Lord pursues us with His Love? The answer is YES. As I reflect on all that has happened in our family, am I able to see that even in the midst of great pain and tragedy that The Lord is fighting for us? The answer is YES. I hope to carry these truths in my heart and mind as I journey into this next year without my son. God is pursuing us with His love. God is fighting for us. It is our prayer that you will carry the truth of Who He is in your hearts and minds as well. May you know that He is pursuing you with His love. I pray that fills your heart and mind as well. I also hope that you will stop and look at the beautiful sky. We saw so many beautiful views as we enjoyed the Great Smoky Mountain National Park. I hope that our pictures show you a glimpse into the beauty. As you look at the sky then know that the heavens declare His glory and the work of His Hands.
May you know how loved you are. If you are struggling in pain and/or grief then it is our prayer that you will be able to put your faith and trust in Jesus. He is The One Who pursues you with His Love. Please remember that you are able to reach out to us on our site. We will be here.
We thank each of you for journeying with us. We praise God for each of you.
To my beloved son PK, may you know how deeply loved and missed you are. Every day. For Always.
"My flesh and my heart may fail, but God is the strength of my heart and my portion forever." Psalm 73:26
#noexcusesnoregrets
#ourjourneycontinues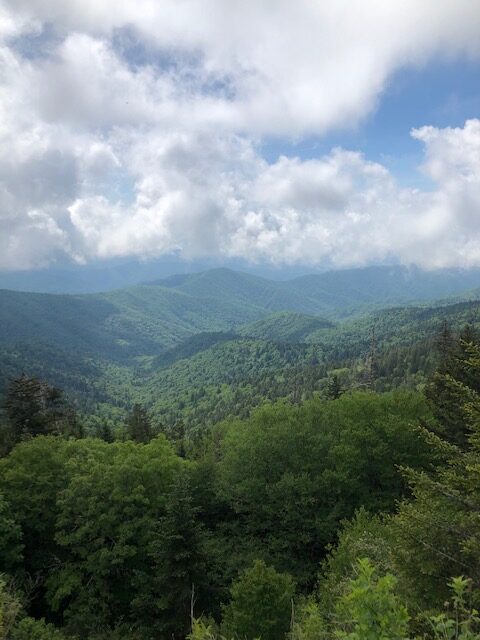 Latest posts by Kristi Kirk
(see all)